Father Darin - The Athlete
Click here to read journal entries from Father Darin about running.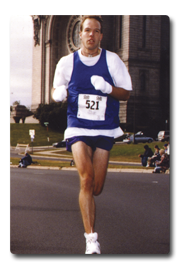 Can a person with little natural ability achieve a goal with just a little incentive and a big heart.   In the case of Darin and his love for running, I can say the answer is a definite "yes". 
When Darin was in third grade at Washington Elementary School in Alexandria, MN, his physical education teacher, Ed Christopherson, had a running program called Road Runners Club.  As the name of the club denotes, this was a program to increase physical fitness through running.  The students ran on their own and documented their miles.  As they reached various milestones they were awarded certificates, t-shirts & trophies.  Darin developed a love for running and could be seen at recess running laps around the school ground.  At home he would run around the neighborhood.   He was very goal oriented and set out to earn the incentives for the Road Runners Club.
As a 7th grader Darin decided to join the cross country team in the fall of the year and the track team in the spring of the year.  Again, he loved to run and experienced success.  The members of the cross country team became very close and they were very encouraging to each other.  It didn't matter if you were in 7th grade or 12th grade, they cheered everyone on.
As a 10th grader Darin won the region cross country meet that was run on the Radisson Arrowwood Golf Course in Alexandria.  The weather conditions weren't the best for this race as there was snow on the ground.  Darin's coach, Mark Nelsen, didn't think Darin had a chance to win after he fell in the snow at the one mile mark.  Again he had his goal in mind and was able to close the gap and win the race.
During a major race in St. Cloud when Darin was in 11th grade he

endured the agony of defeat during a track meet.  He was running the 3200 meter race and was in the lead the entire race.  In the last lap he collapsed.  We later found out that he had exercise induced asthma.
While in high school Darin did a lot of running over the summer in all types of weather.  Darin's coach, Mr. Nelsen, had a program of running 1,000 miles between the last day of the school year and the state cross country meet.  Of course, Darin achieved his goal of being part of the 1,000 mile club.
While a student at the University of North Dakota, Darin continued to run and was a member of the cross country and track teams.  During his senior year he was one of the captains of the cross country team.
In 1999, Darin took a break from his seminary studies and was living in St. Cloud.  He continued running nearly daily.  Darin's roommate and his brother were signed up to run the Twin Cities Marathon.  The brother wasn't able to run so Darin took his place.  Amazingly he finished 71st out of 8,981 runners.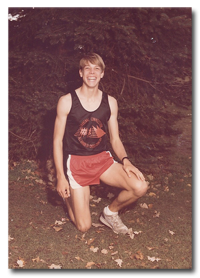 Again he set his goal and I remember him saying, "I just looked down the course and said I just need to make it to that point."  That philosophy got him to the finish line one stride at a time.
Running was very important to Darin and it caused him to be very disciplined in all that he did.  He learned to set goals and how to achieve those goals even though the course wasn't always an easy one.
---
Twin Cities Marathon
In 1999 his roommate signed up to run the Twin Cities Marathon. Darin stepped in to run with his friend and the results are as follows: · Finish time 02:46:39 Pace per mile 6:31.4 · CHIPTIME: 02:44.59 · Placed 71st out of 8,981.
---
Father Darin's influence on area runners
Sports Information intern Jen Davison interviewed Kim Najem about her role on the 2005 women's cross country team.  Kim was the Mount's top finisher at the Great American Cross Country Festival in Cary, N.C. placing 18th in the field with a time of 18:51.50 on Sept. 24.  She was also the Mount's top runner finishing the 5K course in 11th place with a time of 20:36 at the Red Flash Invitational. Click here to read about how Father Darin influenced her during her Senior year.
Inspiring blog about a race honoring running priest
Father Didier's spirit was clearly present last weekend. Monsignor Steven P. Rohlfs, rector of Mount St. Mary's Seminary, started the races with a prayer. Dozens of competitors cheered one another along as they ran along twin gullies that were carved through roadways that wended their way through the corn field.
Read More....