Kari's Neighbor
I had prayed anonymously for my neighbor, Toot, as he was going to have surgery to remove a mass of cancer last October. The outcome of his surgery would determine if the mass was contained - and if Toot would need additional treatments, or be able to travel to Florida for the winter months. A few weeks after Toot's surgery, a friend of his saw my prayer online. She emailed Toot - as wondered if it was he who was being prayed for. Toot printed off her email, and info she sent him regarding Father Didier's website. On an afternoon while Toot was getting ready to go to church, he opened his window to greet me. He gave me an update on his health, discussed leaving for Florida, said that he had something to show me. He said that it "was scary". I assumed it would be information about the cancer he had removed. Instead, it was his friend's email - along with the website information - with a prayer for someone named Toot. As soon as I saw Father Didier's name on the paper, tears welled up in my eyes. I then told Toot "It was me!" It was no longer scary" to Toot - knowing that it was his neighbor praying for good health for him. Toot threw up his arms and wrapped them around me - saying "Thank you - it worked!" He then hollered for his wife, and told her the news. We cried and hugged again! To this day, I honestly feel that Toot figuring out his neighbor anonymously prayed for him is Father Didier's way of telling me he heard my prayer. God bless Father Didier! What a wonderful miracle!


---
Strong Heart - Deep Faith
I had been praying for the repose of Fr. Darin's soul since I heard shortly after he died from Fr. Terry Dodge. I had the privilege of attending their ordination in ND in 2005, and was honored to recieve the first blessing from each of them just minutes after the Mass. Ever since that time, thoughts of Fr. Darin have always given me peace. On Sept. 17, 2010, I was admitted to Penn. Presbyterian Hosp. in Phila. for an emergency cardiac catheterization because I had had severe chest pain. I've had at least 6 previous catheterizations, & have 6 stents in my coronary artery. I've also had an angioplasty and brachtherapy for the same problem. Each time new blockages were found. After this cath, the Dr. said, "Your heart is stronger than ever. There are no blockages." I attribute this to all the prayers that were offered, especially for those I asked of Father Darin. Now I pray TO him, (as well as to our Lord and His dear Mother),for each time I do, I experience great peace.

---

The Austin Swenby Story
When we found out our child was to be born with anencephaly, a fatal neural tube defect, we were grief stricken. Just four days before, his birth, we sought for a miracle. At that point we were given the name of Father Darin Didier. We drove three hours to visit his grave, hoping for an intercessory miracle. We prayed, we cried, and we did it together.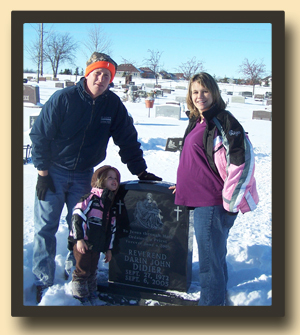 Our son was born four days later, with anencephaly. Although we were not given the miracle of healing, we were given the gift of the peace that surpasses all understanding. Father Darin did infact, intercede for us. Our son lived for 11 minutes. Eleven beautiful minutes. We were given the strength to let him go and feel blessed to call him ours.
---

Others